At harvest time in northern Italy, layers of fog drift romantically over hillside vineyards of ripened nebbiolo grapes. Those from five tiny villages near Alba, the sleepy capital of the Langhe region of Piemonte, will go into the country's greatest red wine, Barolo.
Right now, the crisp autumn air is accented with the scents of wood smoke, pungent, fermenting wine, and the fragrant, earthy-musky aroma of white truffles, sold at an annual market in Alba during October and November.
What could be better than wine and truffles at the source? The combo makes this region, the home of the Slow Food movement, a gourmand's paradise, especially during harvest season.
Surprisingly, Piemonte is still not as well-known a tourist destination as, say, Tuscany. But it should be. The past several years have seen a wave of new boutique hotels carved out of centuries-old buildings and an updated culinary scene with unforgettable food.
Here's how to navigate your stay.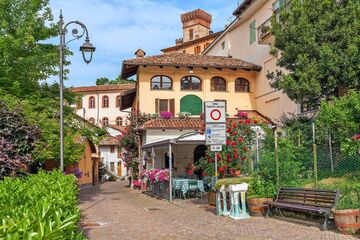 A narrow, flower-lined street in Barolo. (Photographer: rglinsky/Getty Images)
To soak up the Barolo harvest atmosphere, drive the twisting, scenic roads with hairpin curves to one of the many hilltop towns near Alba, where you're guaranteed to have fabulous views of vines.
In the impossibly lovely La Morra, you'll find Palas Cerequio Barolo Cru Resort, a wine estate restored several years ago by Michele Chiarlo (of the eponymous winery). It's surrounded by vines whose grapes go into his single vineyard Barolo "Cerequio." A visit feels as if you're staying in very fancy friend's country house: nine suites, some with Turkish bath, offer panoramic views at €210 to €580 ($236 to $651). You can spend a day cooking with the resident chef, and the cellar wine shop holds daily tastings of older vintages.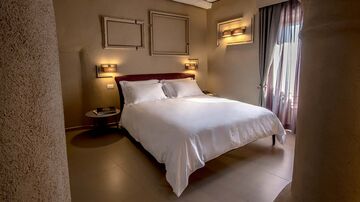 A bedroom at UVE. (Source: UVE)
New hotel and wine bar UVE, which opened in the historic village a year ago, has eight sleek, art-filled rooms surrounding an internal courtyard with a casual wine bar. Suites are the best bet (€180 to €280 a night).
Twenty minutes away, in Sinio, near Serralunga d'Alba, is Hotel Castello di Sinio, a 12th century castle that an American has converted into sumptuous stone walled rooms and suites with luxe fabrics. The sunny Tower suite (€380) overlooks both church clock tower and vines.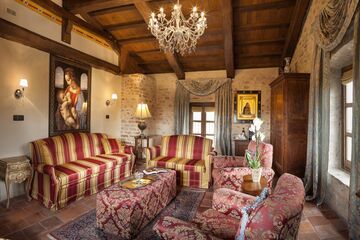 The Royal Master Suite at Hotel Castello di Sinio. (Source: Hotel Castello di Sinio)
For utter tranquility at the end of your stay, go farther afield, to the secluded 30-room Relais San Maurizio, a former 17th century monastery in Santo Stefano Belbo, near Barbaresco. Now a soothing hotel with lush gardens and spa with salt grotto, its new Villa San Luigi luxury suites (€720 and up) offer private butler service.
Where to Tour and Taste
The best way to understand the confusing geography of Barolo's many crus (single vineyards) and to get an insider peek at harvest is via private helicopter tour.
Giovanni Rosso
, based in Serralunga d'Alba, now offers 20-minute trips (up to four people at €200 each); because the Rosso family also owns a small award-winning wine estate nearby, you'll get a running commentary on picking, winemaking, and terroir.
During the busy harvest season, you can assume that most wineries will require appointments.
Some of the best producers are clustered in the village of Barolo, where winding streets climb to the magnificent Castello di Barolo, home to a wine museum and the regional enoteca, where you can taste.
Just down the street is the E. Pira-Chiara Boschis winery; Boschis is one of the top women winemakers in Barolo, making three exceptional single vineyard bottlings. GD Vajra is a very welcoming traditional family winery, making wines of great finesse.
In La Morra, Elio Altare makes stellar Barolos; a tour will include Elio's private cave of salumi.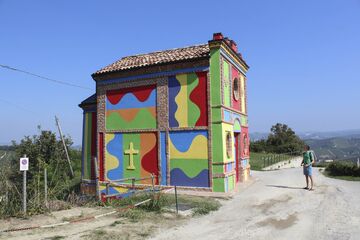 A chapel painted by Sol Lewitt and David Trimlett, in exchange for a case of Barolo. (Photographer: Cub Barrett)
The art and architecture-conscious Ceretto family welcome visitors to their wineries for special tastings of older vintages (€60 and up). Don't miss the Cube, a futuristic glass tasting room overlooking the vineyards at their Bricco Rocche winery, near Castiglione Falletto, or the colorful chapel painted by Sol Lewitt and David Trimlett, near La Morra.
Flavors of the Earth
But you can't visit Barolo and just taste wine. Dig deep into truffledom.
From Oct. 8 to Nov. 27, Alba is the site of the 86th world-famous white truffle festival). Though street carts in Alba display the creamy-beige lumps, browsing the official Mercato di Tartufo in a huge white tent is a must. Truffle hunters hawk their finds, from button-sized examples to ones the size of a child's fist, for €20 to several hundred euros. Prod, sniff, and then haggle.
On Nov. 13, the truffle equivalent of the Oscars takes place in the Castello at Grinzane Cavour, where huge examples are grandly displayed on red velvet cushions. Last year, a Hong Kong businessman splashed out €100,000 for one that weighed 900 grams.
Finding white truffles (tuber magnatum pico, to be precise) depends on the luck of passionate truffle hunters and their well-trained dogs. If you want to join one, Giuseppe Marengo and his dog Diana will take you along.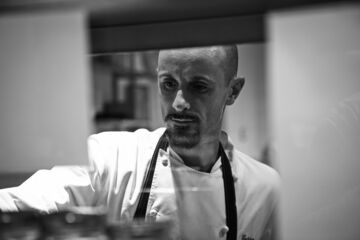 Chef Enrico Crippa. (Source: Piazza Duomo)
In Piemonte, you'll never go hungry.
Alba is a city for serious foodies. The must-try grand restaurant is the pink-walled Piazza Duomo, Piemonte's only three-star Michelin restaurant, with whimsical frescoes by Francesco Clemente. Innovative chef Enrico Crippa is noted for such standouts as his intricate Insalata 21, 31, 41, etc, depending on how many vegetables, flowers, and herbs are in it.
Downstairs is La Piola, a casual bistro with a daily chalkboard menu that offers traditional Piemontese dishes, such as carne cruda (raw beef chopped so fine, it's creamy textured), agnolotti del plin, and tajarin (tagliatelle). But order wine from the Piazza Duomo wine list.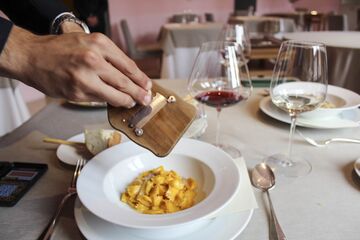 A white truffle is shaved over pasta at Piazza Duomo. (Photographer: Chris Rovzar/Bloomberg)
In Monforte d'Alba, Trattoria della Posta serves up ultra-typical Piemontese cuisine in a country house atmosphere.
But Piemonte is more than Barolo. At the end of your stay, head to the Barbaresco sub-region northeast of Alba, about 40 minutes away, and dine at one-star Michelin La Ciau del Tornavento in Treiso; it offers one of the area's most beautiful dining rooms, with amazing views of the vines. The Piemontese comfort food classics and a sommelier tour of the 60,000-bottle cellar will make you vow to return for harvest season next year.
Like our news and recommendations about top-tier wine? We're exploring creating a wine club. If you'd be interested in joining, please shoot us an e-mail at wineclub@bloomberg.net.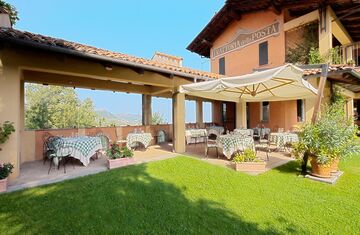 Dining area outside of Ristorante Trattoria della Posta. (Source: Ristorante Trattoria della Posta)
(c) Bloomberg