2016-06-20
Osteria Francescana was named the best eatery on the planet at the World's 50 Best Restaurant Awards, an annual tradition that has become beloved—if lightly regarded—in the culinary world.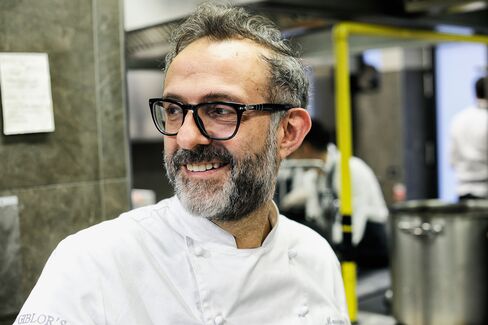 Chef Massimo Bottura, chef and owner of the World's Best Restaurant 2016, Osteria Francescana in Modena, Italy.
Source: Osteria Francescana
Last year's winner, El Celler de Can Roca, dropped to second place, while Modena, Italy's Osteria Francescana won raucous applause for its win. Helmed by Massimo Bottura, it's the first Italian restaurant to make it to No. 1.
Osteria Francescana is filled with artworks collected by Bottura, and the dishes reflect his love of artists such as Ai Weiwei and Wassily Kandinsky. They are colorful and exuberant, complex and fun—yet totally focused. His Caesar Salad in Emilia may look like naked lettuce, but hidden inside are 15 ingredients: the cheese in the form of crispy wafers; the eggs cured in salt and sugar and then air-dried until they are hard enough to grate; the tomatoes strained through cheesecloth for at least 12 hours.
The restaurants on the 2016 list were picked by a total of almost 1,000 members of the industry, including restaurateurs, chefs, writers, and gourmets. The group is divided into 27 regional panels, each with 36 members. They are asked to choose their seven "best restaurant experiences"—it's not a laurel based on food alone. The ceremony took place at Cipriani Wall Street in downtown Manhattan—the first time it has taken place outside of London since its founding in 2002.
In addition to the main awards, a few restaurants and chefs were specially recognized. Den in Tokyo took the "One to Watch" award, presented to a restaurant identified as a "rising star" in global gastronomy and which made the Top 100 list for the first time. The World's Best Pastry Chef went to Pierre Hermé, the "Emperor of Macaroons" and "Picasso of Pastry," a fourth-generation baker who began his career at 14 and now runs an eponymous shop in Paris. Relae in Copenhagen moved up five spots to No. 40 and won "Best Sustainable Restaurant" for a second year in a row. And scooping up the "World's Best Female Chef" with her gorgeously poetic take on food is Dominique Crenn of the two-Michelin-starred Atelier Crenn in San Francisco—which strangely didn't rank at all. Celebrated French chef Alain Passard of L'Arpège (No. 19) was recognized with the "Lifetime Achievement" award.
Eleven Madison Park, under chef Daniel Humm, came fifth in 2015 after placing fourth in 2014. This year it moved up one spot more to No. 3—making it the top restaurant in North America. Perhaps unsurprisingly, it also won the show's first-ever "Art of Hospitality" award.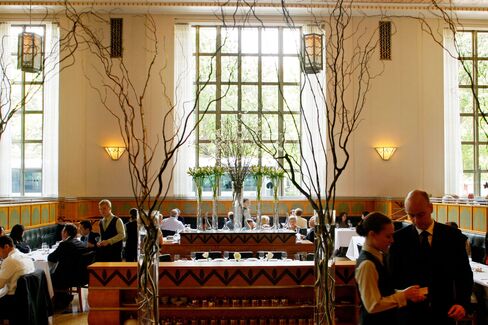 The dining room at Eleven Madison Park.
Photographer: Chris Goodney/Bloomberg
The last U.S. restaurant to triumph was The French Laundry, in 2004. Since then, European establishments have monopolized the top place.
The "Biggest Mover Award" this year went to Maido from Lima, which climbed 31 points to No. 13, and along with Central at No. 4 further cements Peruvian cuisine's global ascendance—and its capital as a foodie destination. Past awards have struggled with diversity, so it's heartening to see restaurants outside Europe and America getting their due.
Other surprises included Heston Blumenthal's Dinner, which dropped precipitously from No. 7 in 2015 to 45th place, joining Chateaubriand (No. 74), which saw a similar drop. Notably, only two Parisian restaurants made the top 50 this year, a small but significant departure from tradition. Meanwhile in New York, local favorite Estela made the top 50 for the first time, while Per Se dropped to No. 52 and NoMad fell off the list altogether (it was No. 67 last year). So did Masa, formerly No. 94.
Below, the full results, with the 2015 rankings in parentheses. "Re-entry" indicates the restaurant's reappearance in either the top 50 (after bumping down lower) or 51-100 rankings (after bumping off the list altogether).
Current Ranking. Restaurant. (Last Year's Ranking)
1. Osteria Francescana, Modena, Italy (2)
2. El Celler de Can Roca, Girona, Spain (1)
3. Eleven Madison Park, New York (5)
4. Central, Lima (4)
5. Noma, Copenhagen (3)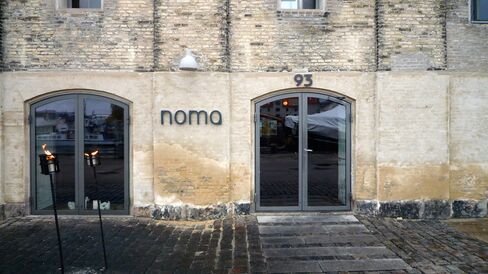 6. Mirazur, Menton, France (11)
7. Mugaritz, San Sebastian, Spain (6)
8. Narisawa, Tokyo (8)
9. Steirereck, Vienna (15)
10. Asador Etxebarri, Atxondo, Spain (13)
11. D.O.M, São Paulo (9)
12. Quintonil, Mexico City (35)
13. Maido, Lima (44)
14. The Ledbury, London (20)
15. Alinea, Chicago (26)
16. Azurmendi, Larrabetzu, Spain (19)
17. Piazza Duomo, Alba, Italy (27)
18. White Rabbit, Moscow (23)
19. L'Arpège, Paris (12)
20. Amber at The Landmark Mandarin Oriental, Hong Kong (38)
21. Arzak, San Sebastian, Spain (17)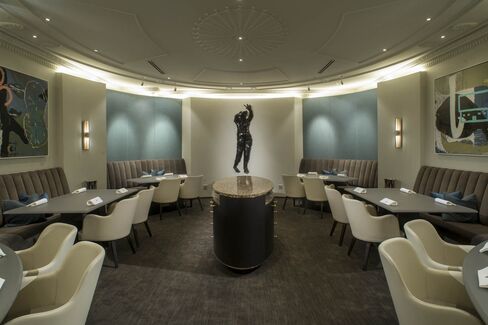 The newly renovated interior of Alinea, Chicago, which climbed 11 spots to No. 15 this year.
Photographer: Matthew Gilson
22. The Test Kitchen, Cape Town (28)
23. Gaggan, Bangkok (10)
24. Le Bernardin, New York (18)
25. Pujol, Mexico City (16)
26. The Clove Club, London (55) ** ALSO WON "Highest New Entry"
27. Saison, San Francisco (56)
28. Geranium, Copenhagen (51) ** RE-ENTRY
29. Tickets, Barcelona (42)
30. Astrid y Gaston, Lima (14)
31. RyuGin, Tokyo (29)
32. Restaurant Andre, Singapore (46)
33. Attica, Melbourne (32)
34. Tim Raue, Berlin (52) ** RE-ENTRY
35. Vendôme, Bergisch Gladbach, Germany (30)
36. Borago, Santiago (42)
37. Nahm, Bangkok (22)
38. De Librije, Zwolle, Netherlands (71) ** RE-ENTRY
39. Le Calandre, Rubano, Italy (34)
40. Relae, Copenhagen (45)
41. Faviken, Jarpen, Sweden (25)
42. Ultra Violet, Shanghai (24)
43. Restaurante Biko, Polanco, Mexico (37)
44. Estela, New York (90) ** NEW ENTRY
45. Dinner, London (7)
46. Combal Zero, Rivoli, Italy (65) ** RE-ENTRY
47. Schloss Schauenstein in Furstenau, Switzerland (48)
48. Blue Hill at Stone Barns, New York (49)
49. QuiqueDacosta, Denia, Spain (39)
50. Septime, Paris (57) ** RE-ENTRY
And here are the previously announced winners of places 51 to 100:
51. Maní, São Paulo (41)
52. Per Se, New York (40)
53. Hof Van Cleve, Kruishoutem, Belgium (54)
54. The Jane, Antwerp, Belgium ** NEW ENTRY
55. Nerua, Bilbao, Spain (68)
56. Mikla, Istanbul (96)
57. L'Astrance, Paris (36)
58. Alain Ducasse au Plaza Athénée, Paris (47)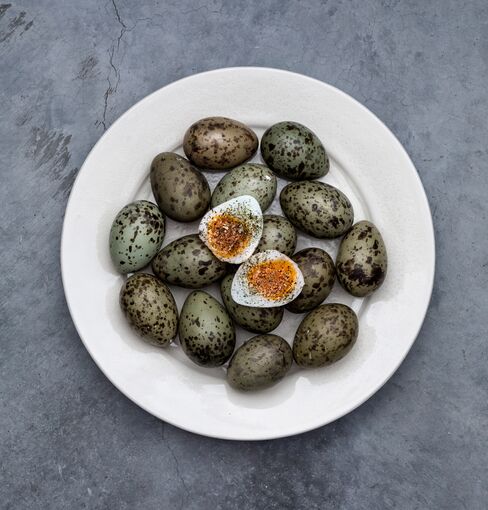 Gull's eggs at Lyle's in London.
Source: Per-Anders Jörgensen/Lyle's via Bloomberg
59. Martín Berasategui, Lasarte-Oria, Spain (61)
60. Hedone, London (60)
61. Maaemo, Oslo (64)
62. La Grenouillère, La Madelaine Sous Montreuil, France ** RE-ENTRY
63. Aqua, Wolfsburg, Germany (33)
64. Lasai, Rio de Janeiro ** NEW ENTRY
65. Lyle's, London ** NEW ENTRY
65. Brae, Birregurra, Australia (87)
67. The Restaurant at Meadowood, St. Helena, USA (72)
68. Tegui, Buenos Aires (83)
69. Epicure, Paris ** NEW ENTRY
70. Burnt Ends, Singapore ** NEW ENTRY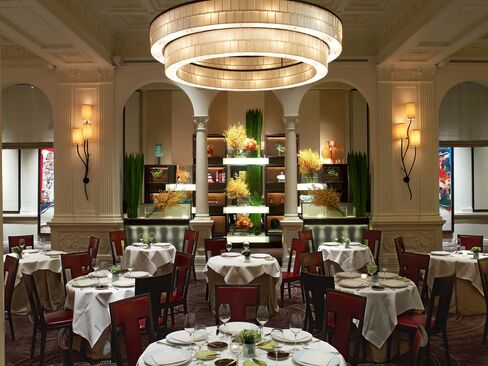 Daniel's dining room.
Photographer: Eric Laignel/Courtesy of Daniel
71. Daniel, New York (80)
72. Pavillon Ledoyen, Paris ** NEW ENTRY
73. Hertog Jan, Bruges, Belgium (53)
74. Le Chateaubriand, Paris (21)
75. Twins, Moscow ** NEW ENTRY
76. La Colombe, Cape Town ** RE-ENTRY
77. Den, Tokyo ** NEW ENTRY
78. Belcanto, Lisbon (91)
79. DiverXO, Madrid (59)
80. L'Atelier Saint-Germain de Joël Robuchon Paris, Paris (63)
81. Chef's Table at Brooklyn Fare, New York ** NEW ENTRY
82. Hajime, Osaka, Japan (86)
83. Manresa, Los Gatos, USA (100)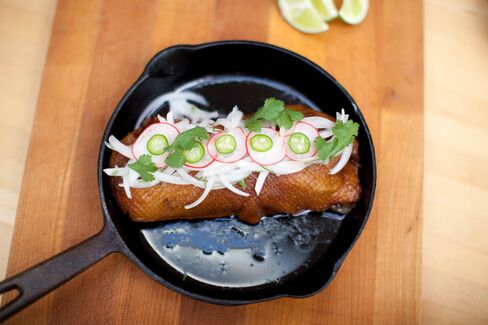 Photographer: Sam Hall/Bloomberg Business
84. Reale, Castel Di Sangro, Italy ** NEW ENTRY
85. The French Laundry, Yountville, USA (50)
86. 8 1/2 Otto e Mezzo Bombana, Hong Kong (62)
87. Indian Accent, New Delhi (77)
88. Die Schwarzwaldstube, Baiersbronn, Germany ** RE-ENTRY
89. Benu, San Francisco NEW ENTRY ** TIE
89. Zuma, Dubai (88) ** TIE
91. St John, London (92)
92. Quintessence, Tokyo ** NEW ENTRY
93. Daniel Berlin, Skåne Tranås, Sweden ** NEW ENTRY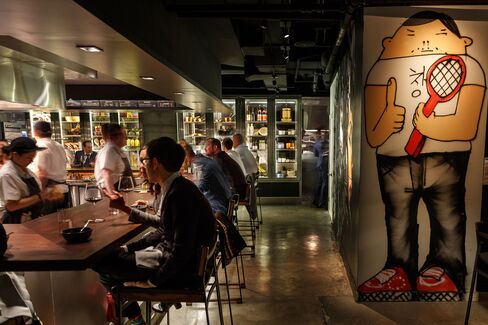 Photographer: Zack DeZon/Bloomberg
94. Bras, Laguiole, France ** NEW ENTRY
95. L'Effervescence, Tokyo (85)
96. Cosme, New York ** NEW ENTRY
97. Momofuku Ko, New York (69)
98. Quay, Sydney (58)
99. La Petite Maison, Dubai ** RE-ENTRY
100. Chestnaya Kuhnya, Moscow ** NEW ENTRY
—Additional reporting by Richard Vines, Justin Ocean
This article is originally published on www.bloomberg.com