Across Europe, spring is finally in the air. The trees are blooming, the parks are springing back to life, and inbound summer fares are about to surge through the roof.
Fret not. If you're still unsure about your summer vacation plans, here's everything you'll need to (very quickly) plan your best European jaunt yet, from the hottest, of-the-moment hotels to the destinations you might be overlooking.
If You Love Cities ...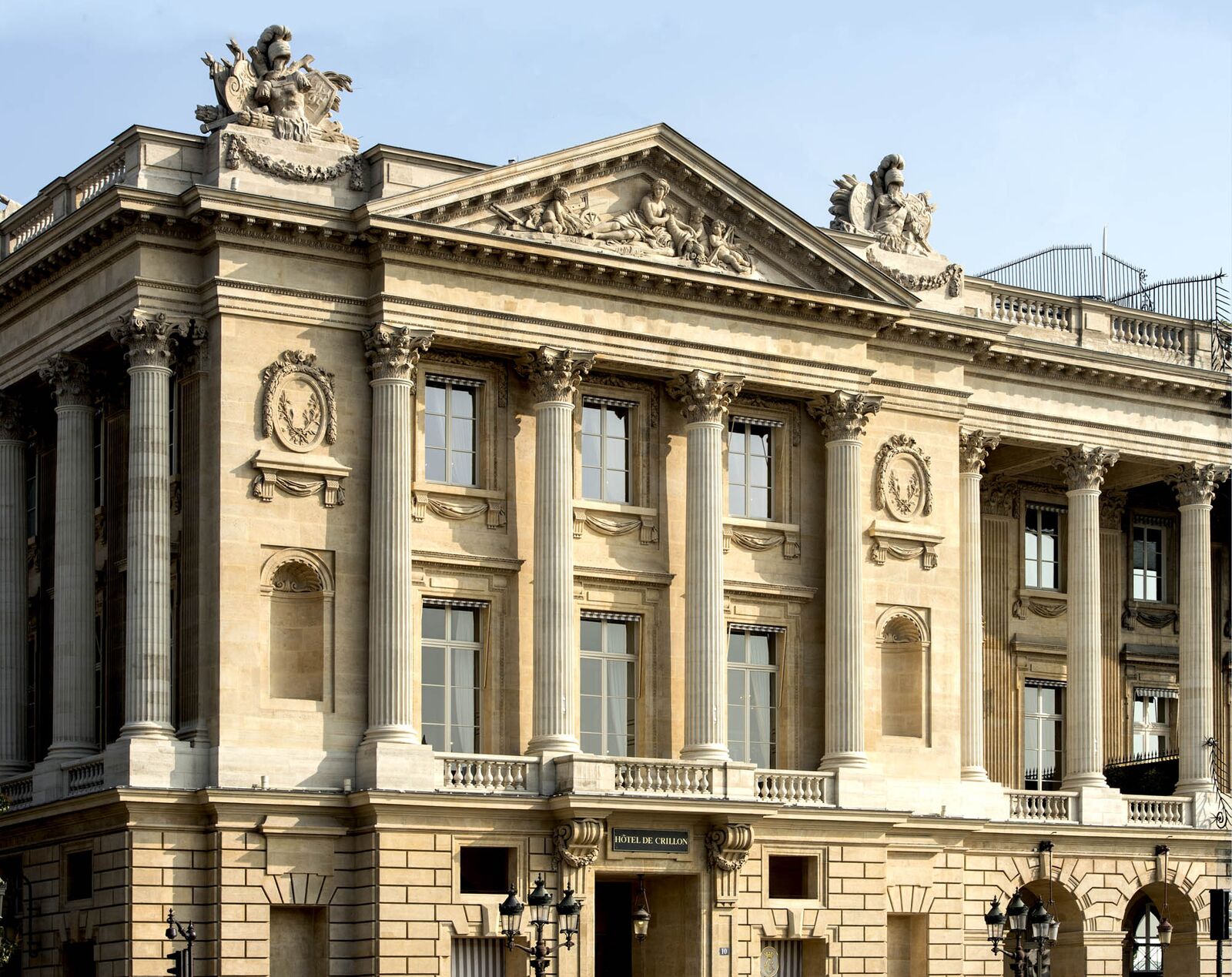 The facade of the Hôtel de Crillon, currently wrapping up its four-year renovation. Photographer: Rosewood Hotels & Resortd
... there's no place like Paris.
The City of Light will twinkle even more brightly this June, when the lights flick back on at Rosewood's Hôtel de Crillon. It took four years to update the 258-year-old palace hotel—located right on the Place de la Concorde—but the investment has paid off. An old ballroom in which Marie Antoinette used to practice piano has been converted into a grand suite; new apartment-style suites on the fourth floor will debut, with interiors by Karl Lagerfeld; and the new Bar Les Ambassadeurs will have the largest Champagne selection in town (no small feat in Paris). Rooms from $1350.
When to go: July, after the Crillon gets its rhythm but before the city shuts down in August.
What not to miss: Croissants at Sébastien Gaudard, right around the corner from your posh digs. To this writer's estimation, they're the best in the city.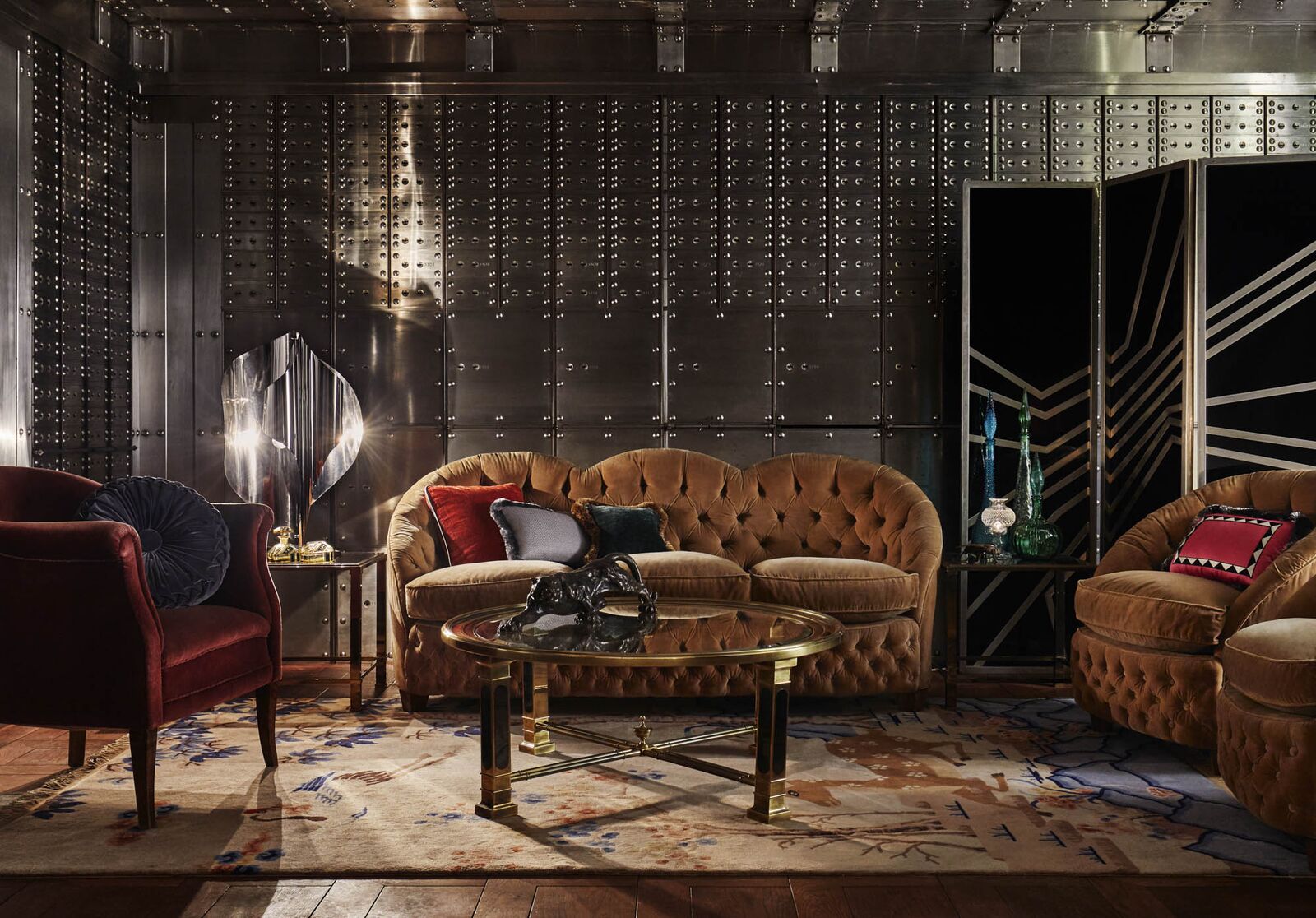 Inside the Ned, London's coolest new hotel. Source: The Ned
London's also having a moment.
It may not be in the EU much longer, but for now, it still counts. With the pound struggling post-Brexit, your money will go unusually far. Book into the Ned, a hotel of epic proportions in the City. It's the brainchild of two Midas-like masterminds: Soho House and Sydell Group. (The latter birthed the cool-kid Freehand brand and New York's Nomad hotel.) There's also the Four Seasons Hotel at Ten Trinity Square, in a historic 1915 building that now has a wine program by Château Latour and a restaurant by French power chef Anne-Sophie Pic. Rooms from $310 and $534, respectively.
When to go: June, to avoid wet or overly hot weather.
What not to miss: Scones and tea in the atrium of the Wallace Collection, an under-the-radar museum in an immaculately preserved London townhouse.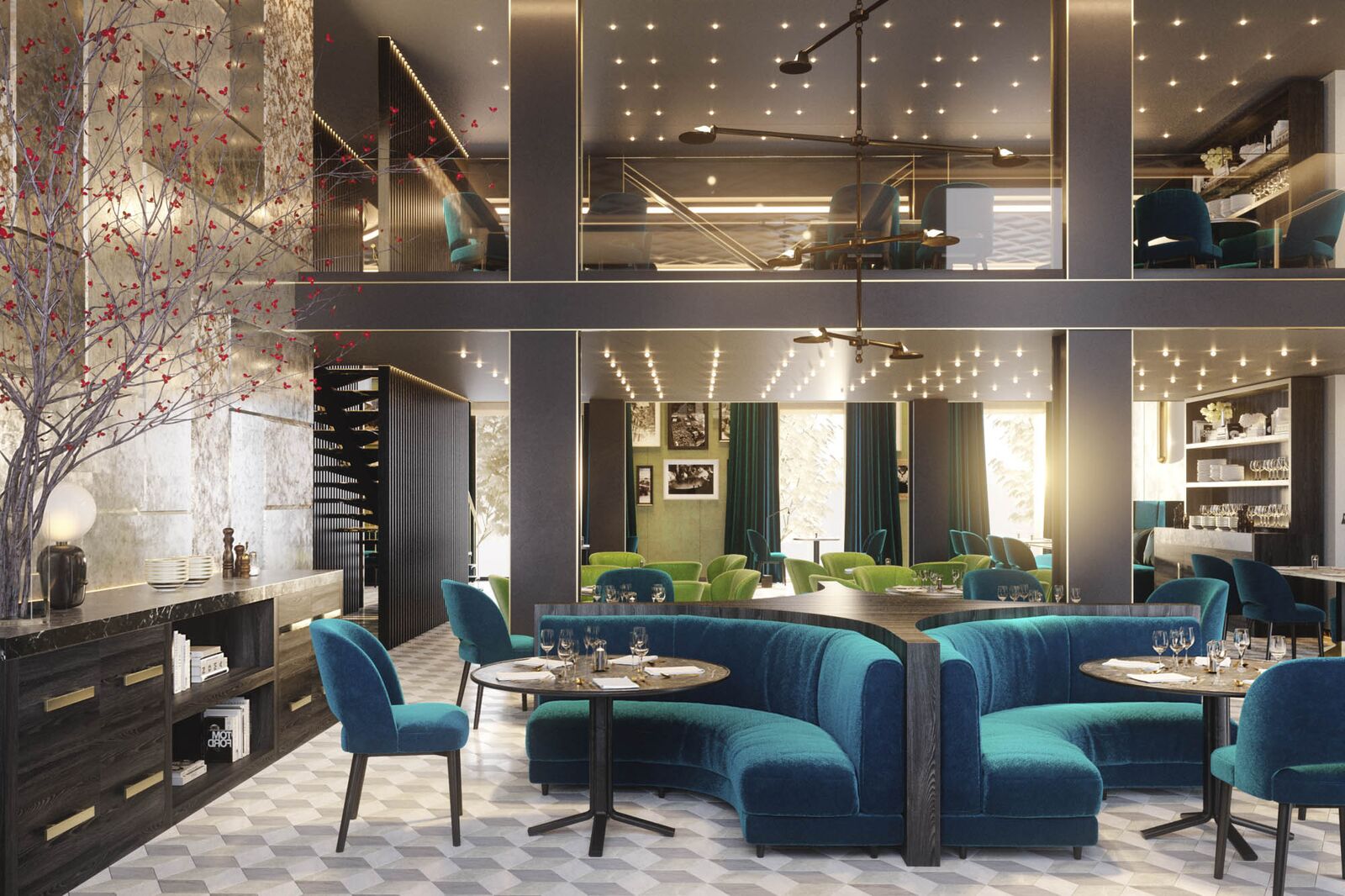 The glam restaurant at the Almanac Barcelona, the first iteration of a new hospitality brand. Source: Almanac Hotels
Barcelona's getting a big upgrade.
Despite its rep for world-class architecture, this Spanish culture capital hasn't always had much to offer in the way of great hotels. This summer it gets several impressive additions, with the Almanac leading the pack. The first entry for this nascent five-star brand (a Vienna Almanac is up next, in early 2019), it'll have 92 sumptuous rooms with deep window alcoves just a five-minute walk from the Plaza de Cataluña. Rooms from $476.
When to go: July, when the city comes to life with tons of open-to-the-public events, or August; the city doesn't take Europe's month-long siesta too seriously.
What not to miss: A day trip to the beaches. It's worth braving the crowds at Barceloneta beach to hit up Surf House, a chic interpretation of local chiringuitos (beach bars) with slushy drinks, tropical fruit paletas (ice pops), and macaron ice cream sandwiches.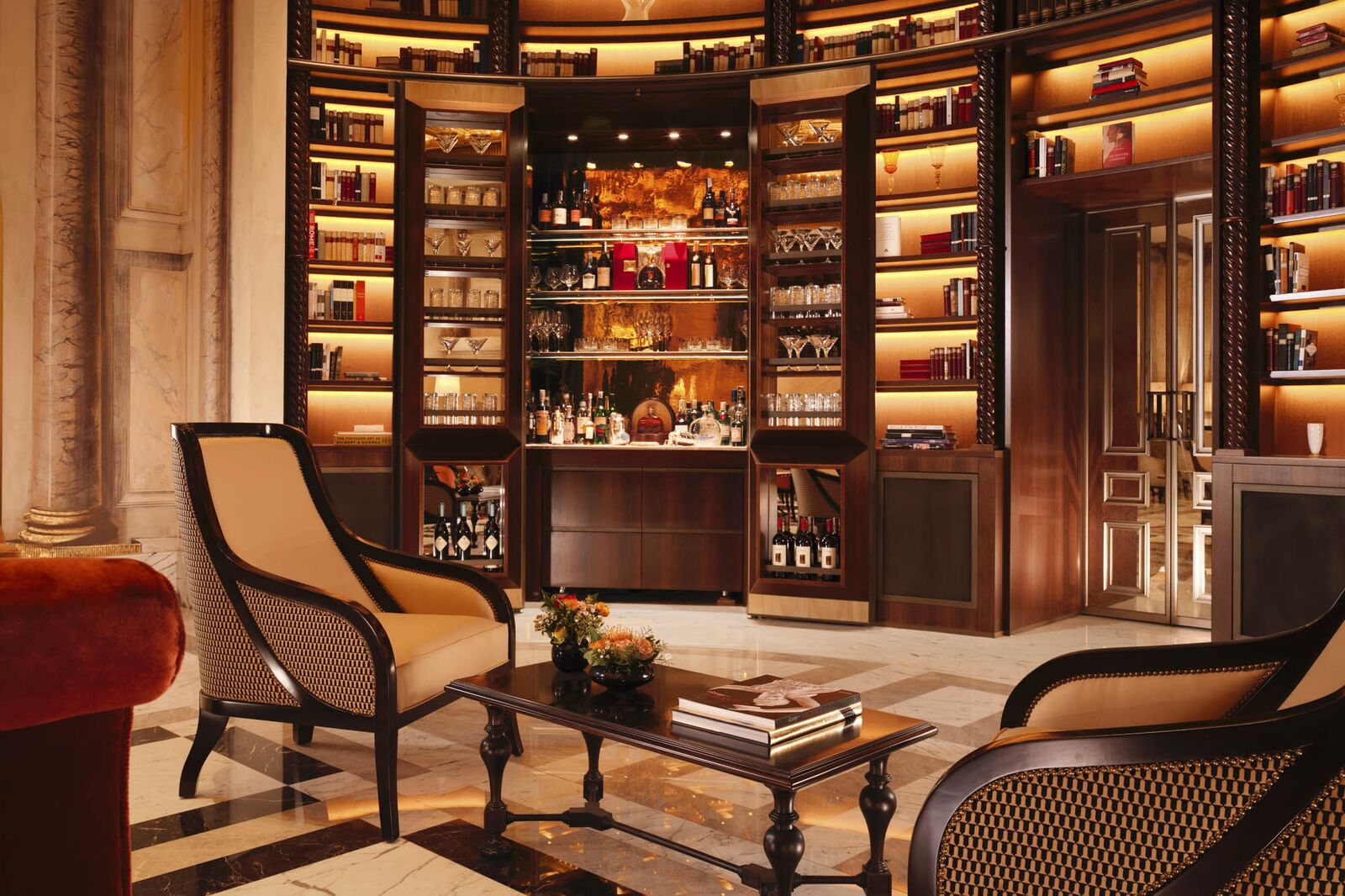 La Libreria, a hidden, speakeasy-style bar inside the Hotel Eden. Source: Dorchester Collection
And Rome was rebuilt in 18 months.
At least the Dorchester Collection's Hotel Eden was. It has just reopened after a top-to-bottom redo. A reduction in rooms, from 121 to 98, means that the gilded accommodations (and marble bathrooms) are ultra-spacious; on the rooftop you'll find a stunningly sophisticated restaurant with floor-to-ceiling windows that open up for an al fresco feel. That you're around the corner from the Spanish Steps and Villa Borghese is icing on the (olive oil) cake. Rooms from $663.
When to go: June, before the summer crowds really swarm.
What not to miss: The best pizza you've ever tasted awaits at Antico Forno Roscioli, a third-generation operation in Campo de' Fiori. And then there's dessert at the family's new bakery down the block, Roscioli Caffè, where you can get flaky, cone-shaped cornetti filled to order.
If You Love Beaches ...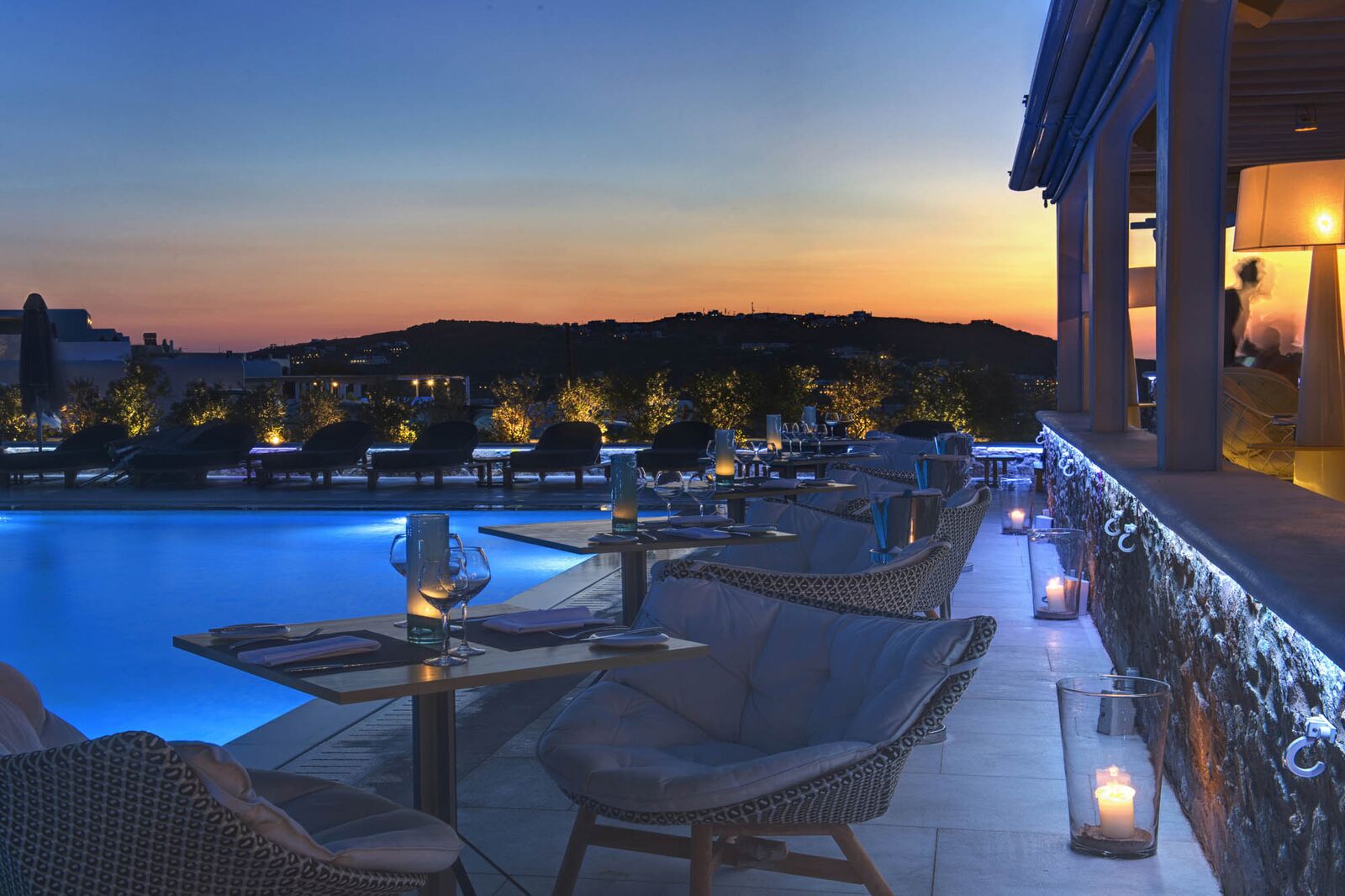 Poolside at Mykonos's hottest new hotel. Source: Design Hotels
... skip Santorini and head to Mykonos.
There's more to do, from prettier beaches to a vibrant old town and a stunning new hotel: Myconian Kyma, which just opened under the Design Hotels umbrella. Like everything else on this postcard-perfect island, the building is a series of sugar-white cubes. But inside are punchy pops of color: dining room chairs in cotton candy pink, lemon-colored throw pillows, plush pool lounges in navy blue, and turquoise Aegean views from every window. Rooms from $233.
When to go: There's no bad time to go to Mykonos. But go in May if you'd rather see the island's quieter side.
What not to miss: No trip to Greece is complete without a meal of grilled octopus under an olive tree-shaded pergola. Find it at Kiki's, a beachside spot that's refreshingly free of pretense on this otherwise-sceney island.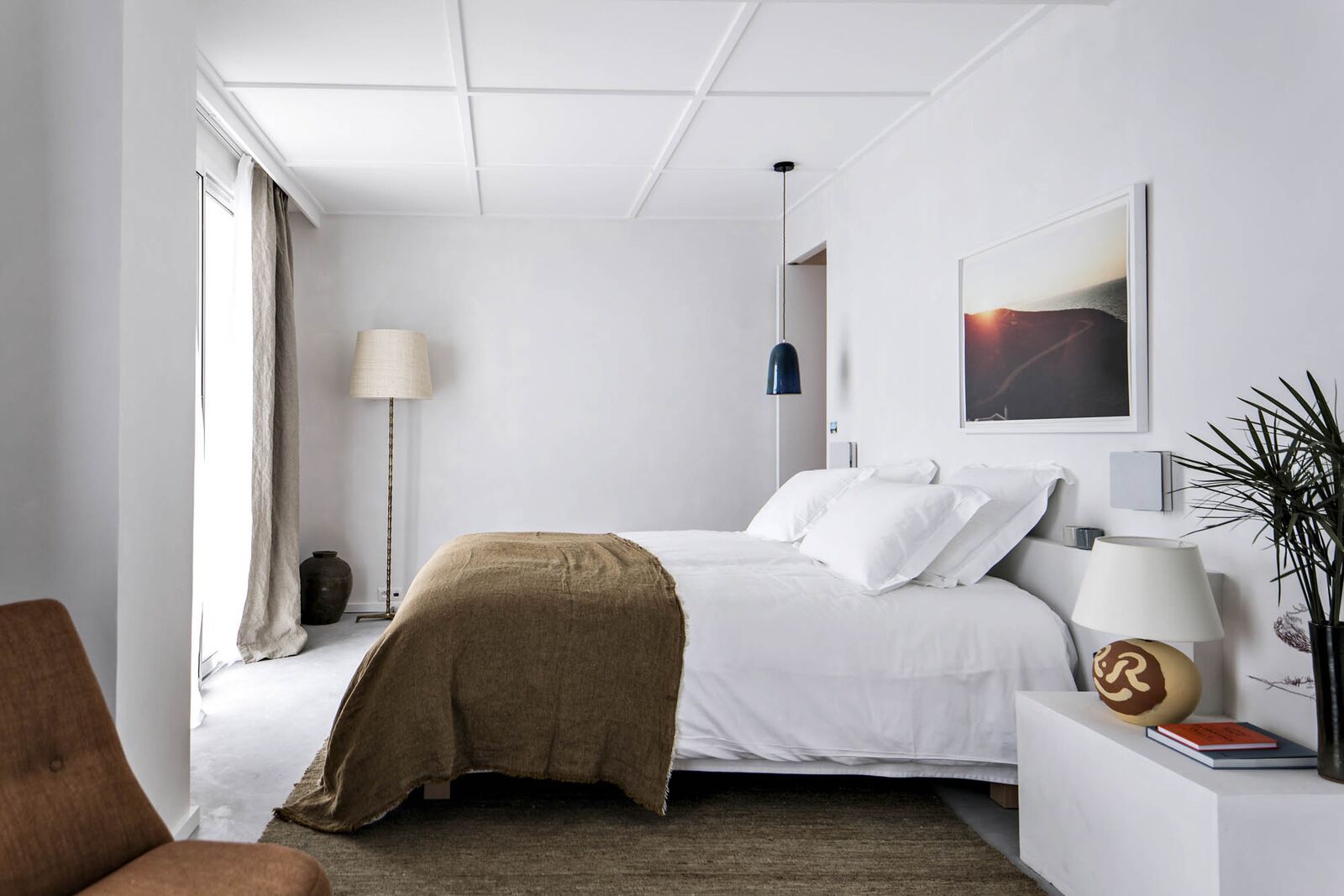 Minimalist rooms at Les Roches Rouges put the spotlight on turquoise Mediterranean views. Source: Design Hotels
Let the French Riviera lure you.
The super-stylish team behind Paris's Le Pigalle has just set up shop amid a string of tiny fishermen's villages on the Provence coast, midway between St. Tropez and Cannes. Their Hôtel Les Roches Rouges is an idyllic escape, with a saltwater swimming pool that's cut into natural rock formations, an open-air cinema, and a pétanque court. As for the 50 rooms and suites: They're all whitewashed with wicker and sand accents, most with either sea views or private gardens. Rooms from $223.
When to go: The region is at its buzziest in July and early August; if a quiet retreat is what you're after, go in June or pre-Labor Day.
What not to miss: The town of Saint-Raphaël, where Les Roches Rouges is based, lies at the foot of the Massif de l'Estére hiking trails. It's worth spending a day amid the red rocks and mossy vegetation that seem to tumble right into the shore.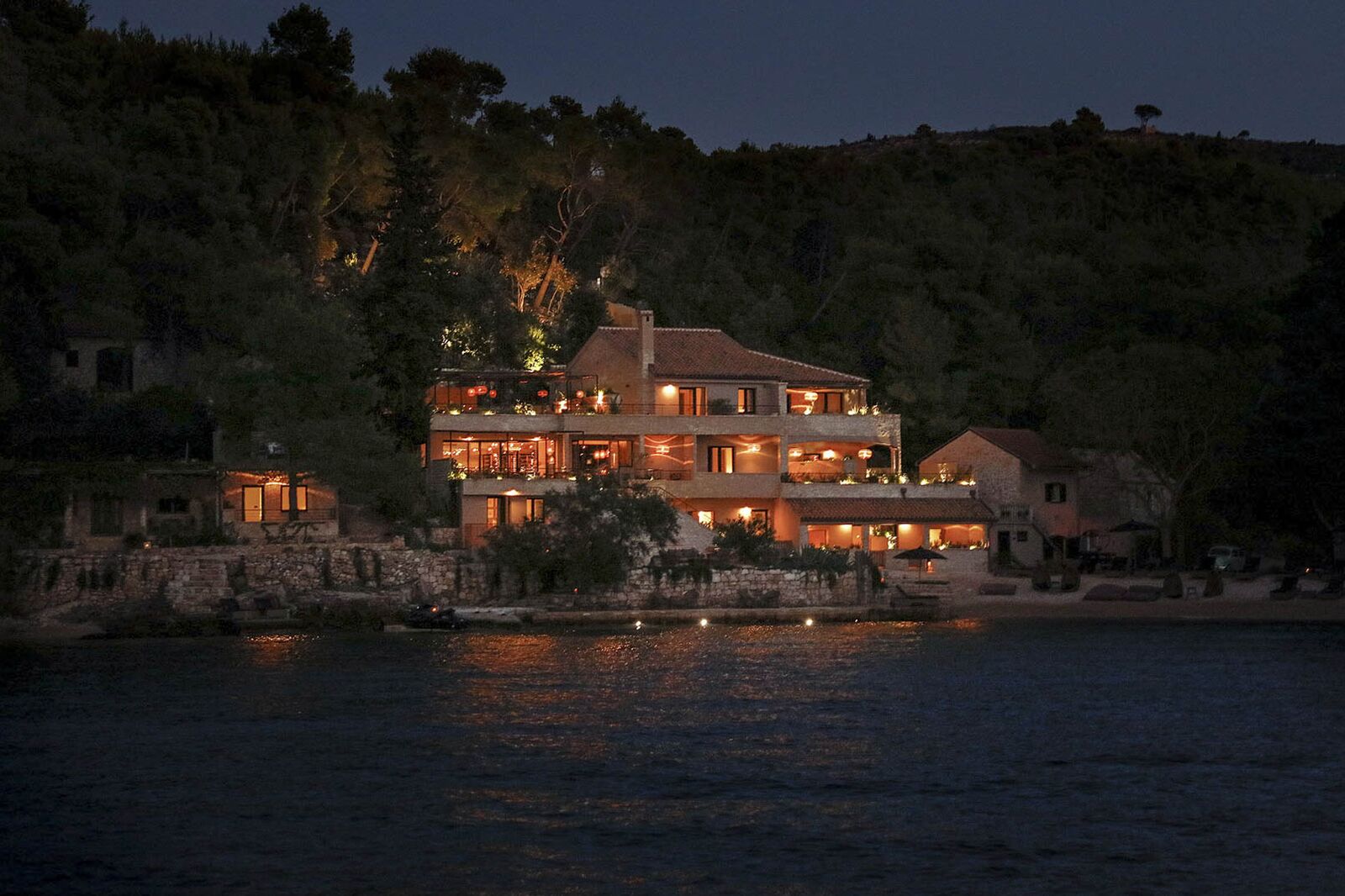 Nightfall at Hvar's Little Green Bay, in Croatia Source: Little Green Bay
And know this: Croatia no longer requires a yacht.
Go to Westeros in luxurious style by visiting two new properties on the island's two prettiest beach towns. First is the just-redone Excelsior in Dubrovnik, all glitz and glam in a landmarked royal villa. And then there's Little Green Bay, a sweet gem of a property that's brimming with design smarts. No boat required, but that doesn't mean you can't get on one for fun. Rooms from $386 and $413, respectively.
When to go: Avoid crowd by traveling in May or June.
What not to miss: Walk Dubrovnik's Old Town ramparts: You'll see how the city's picturesque terra cotta roofs edge all the way up to the coastline. (You might spy a few recognizable Game of Thrones landscapes while you're at it.)
If You Love the Country ...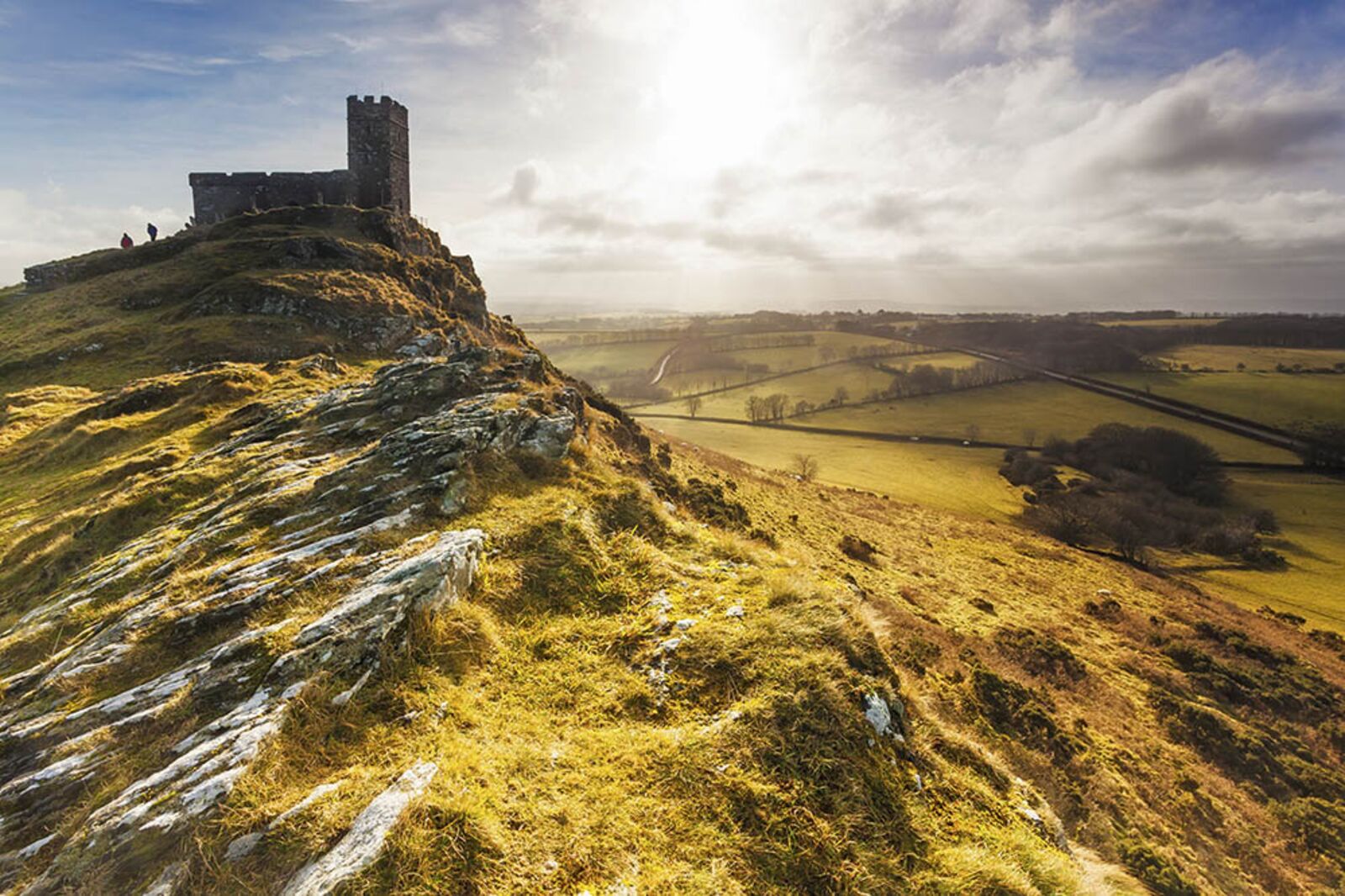 On the rugged grounds of the not-at-all-rugged Lympstone Manor, in southwest England. Source: Lympstone Manor
... the English countryside has a new jewel in its crown.
It's Lympstone Manor, a Georgian pile in Devon that's been lovingly converted into a 21-room hotel by the locally beloved chef, Michael Caines. On the expansive grounds, you'll find 28 acres of gardens and parkland and a newly-planted vineyard, which Caines hopes will produce Champagne-style wines by 2021. Bonus: The Jurassic Coast beaches are just a few minutes down the road, as are the towns of Exmouth and Exeter. Rooms from $378.
When to go: The English countryside is beautiful all summer long.
What not to miss: Bike along the eight-mile Exe Estuary trails, and you'll see the idyllic towns and villages of Topsham, Exton, and Cockwood.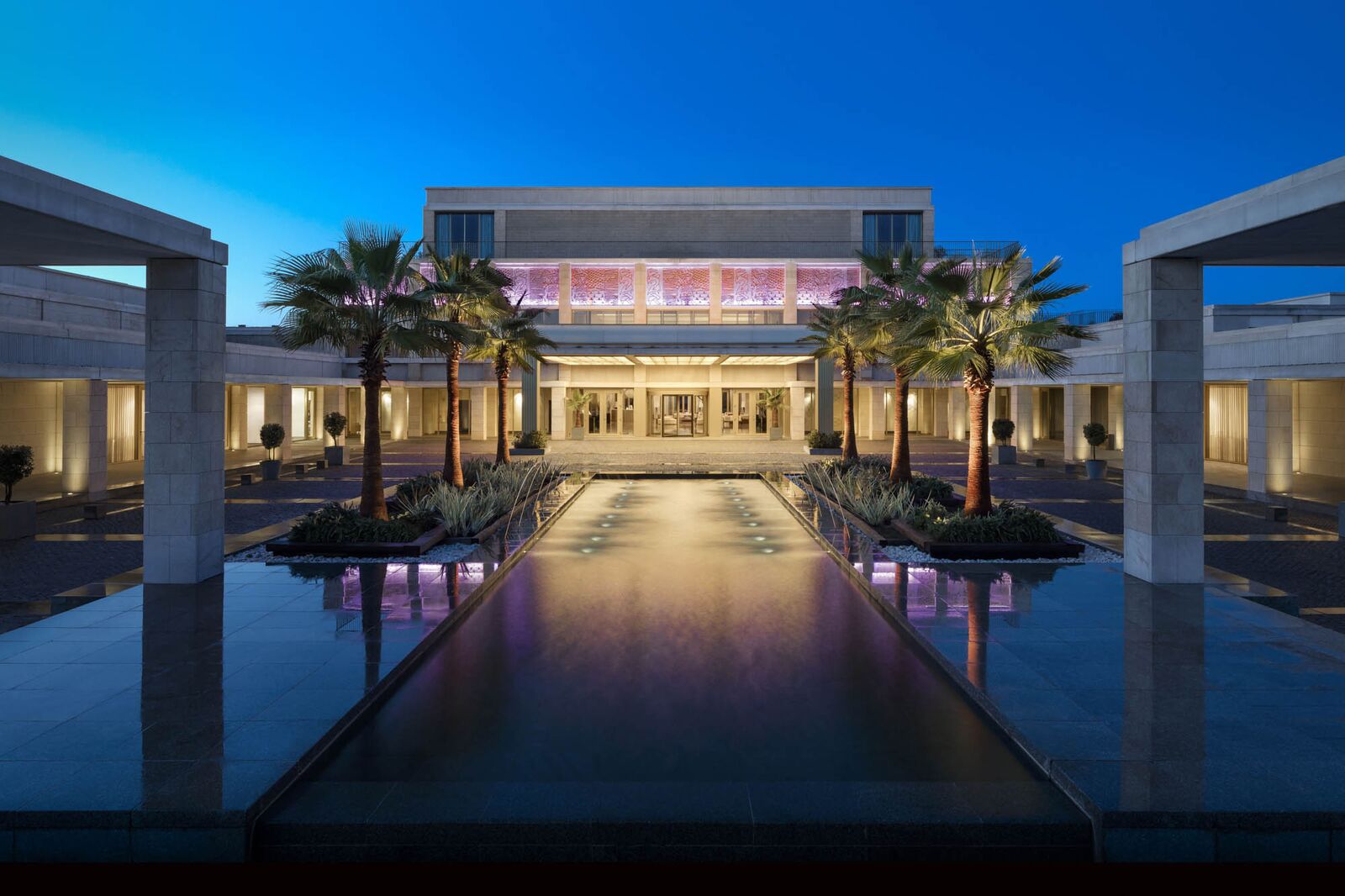 There's a long list of excursions at Anantara's first European resort, but you may stay put all day long. Source: Anantara
Portugal is the place to be this year.
And you wouldn't be doing it right if you stuck to the cities. Base yourself at the Anantara Vilamoura-Algarve Resort, the first European property for this venerable Asian brand. Aside from their impeccable hospitality standards, you'll find built-in activities for the whole family. (There's an Arnold Palmer-designed golf course, separate kids' and teens' clubs, an Ayurvedic spa, and six restaurants.) You're also within easy reach of vineyards, beaches, and the pastel-colored town of Vilamoura. Rooms from $266.
When to go: July and August are the driest months; June offers tons of local festivals.
What not to miss: Spot flamingos (and tons of other unusual birds, such as the purple swamphen) in the tidal flats at Ria Formosa Natural Park, a series of coastal lagoons and wetlands that stretch across 18,000 hectares.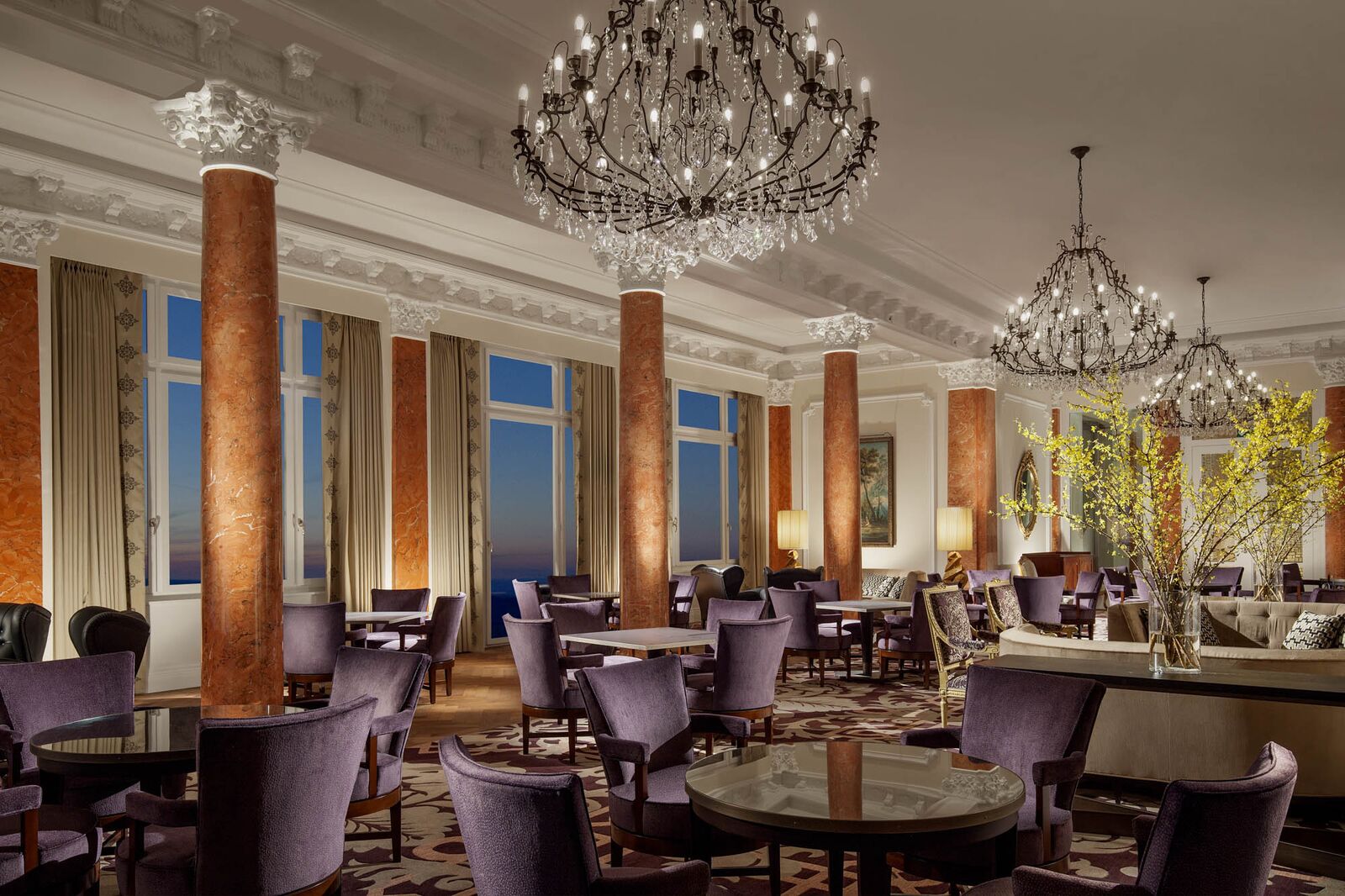 The lobby of the soon-to-reopen Palace Hotel, part of the larger Bürgenstock Resort in Lake Lucerne. Source: Bürgenstock Resort
Switzerland isn't just for skiing.
Over in Lake Lucern, the Bürgenstock Resort—once a favorite of Sophia Loren, the Carters, and the Danish royals—will soon be reborn as a summertime paradise. Following a $545 million investment, it will serve as four separate hotels: one five-star, one inn, one wellness resort, and a boutique four-star option in a 1904 Belle Époque building. The latter, called the Palace Hotel, will be the first to open, in June, with 108 wood-lined rooms strewn with fur throws and brass fixtures. (Remember, four-star standards in Switzerland are five-star-worthy anywhere else.) Rooms from $436.
When to go: Later in the summer. The various hotels, 12 restaurants, spa, and golf course are all opening as they're ready—and the Palace is just one piece of the puzzle.
What not to miss: With a resort this sprawling, you're not going anywhere. Stay put, and enjoy those epic lakeside sunsets.
(c) Bloomberg